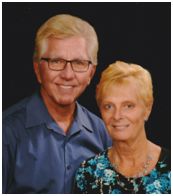 Dan & Rhetha Roy, Kincardine, ON
Dan & Rhetha started Round Dancing in 1988.  They later attended leaders training offered by the Toronto & District Association.
In 1991 they started the Sunset Round dance club in Kincardine, and have cued for the Huron Happy Hearts, in Clinton, since 2002.
Dan has cued and taught dances at a number of Canadian Conventions & Festivals, and some US Nationals.
Dancing remains to be their main focus as they serve on executives for SWOSDA (South Western Ontario Square & RD Association),
the Ontario Federation, and the Canadian Society.  They are editors of the Bugle Magazine (SWOSDA Web publication).
They were Chair couple for the Canadian National in 2008, and again in 2018.