Square & Round Dance Instructors Association of Alberta Round Dance
Instructors School
September 9-12, 2020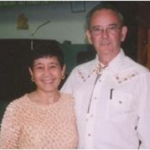 Peter & Stella Tennant
Vernon BC
Cuer / Instructor
Member of: Round-A-Lab, OSRDA, BCFSRD
Mary & Bruce Nelson
Sherwood Park AB
Cuer / Instructor
Member of: Round-A-Lab; ICBDA, SRDIAA, EDCIA, C&D
2 Instructors | 2 Rooms | Separate Sessions
THE FACILITY
Lone Ridge Hall, Wetaskiwin Ab. Canada – 2 miles West of QE2 Highway #2 on Highway #13.
THE PROGRAM
The School starts on September 8, 2020 at 9:00 AM and ends September 11, 2020 at 10:00 PM. There will be an free open evening
Round Dance to be cued by participants Thursday, September 10, 2020 from 7:00 – 9:30 PM.
Cost: $375.00 per teaching unit – $100.00 Deposit Balance Due July 01, 2020 – Cancelation Policy in Effect
The Accommodations: You must make your own Hotel Reservations.
Dry Camping is available on site. No Power available.
Hotels 20 minutes East of Hall: Best Western Wayside Inn (toll free 1-877-538-6177)
(be sure to mention you are coming for the SRDIAA Cuer's School);
Super 8 (1-800-454-3213);
Wetaskiwin Motel (780-352-7141);
Hotel 20 Minutes West of Hall Village Creek Country Inn (Toll Free 1-877-688-0006)
Mary Nelson
mbnelson1@shaw.ca or
780-467-1141
Enrollment will be limited, so please register early!
Mail Registration Form / payment to:
Mary Nelson
15 Gale Avenue
Sherwood Park, AB T8A 2K7

Mbnelson1@Shaw.ca
Deadline to register is July 01, 2020. There is limited space.
$100.00 Deposit – Balance due July 01, 2020
Cancellation Policy in Effect
You must make your own hotel reservations.
Hotel Information:
Best Western Wayside Inn (toll free 1-877-538-6177) (be sure to mention you are coming for the SRDIAA Cuer's School) (20 minutes East of Hall)
Super 8 (1-800-454-3213); (20 minutes East of Hall)
Wetaskiwin Motel (780-352-7141 (20 minutes East of Hall)
Village Creek Country Inn (Toll Free 1-877-688-0006) (25 minutes West of Hall)